Having a seamless, convenient and no frills job application procedure makes all the difference to a job seeker's impression of the employer.
What is candidate rejection email?
Candidate experience is one of the keys to building employer brand as well as the backbone of any talent acquisition strategy. However, the majority of employers are still approaching this topic as a minimal factor as they treat recruitment as merely a number game.
As an employer, you need to allocate sufficient resources and investment for remodelling candidate experience in order to attract and retain top talents. And it's not rocket science, candidate experience starts from very small steps of the hiring funnel.
It's as simple as asking your recruitment team the "why" chain questions. For example: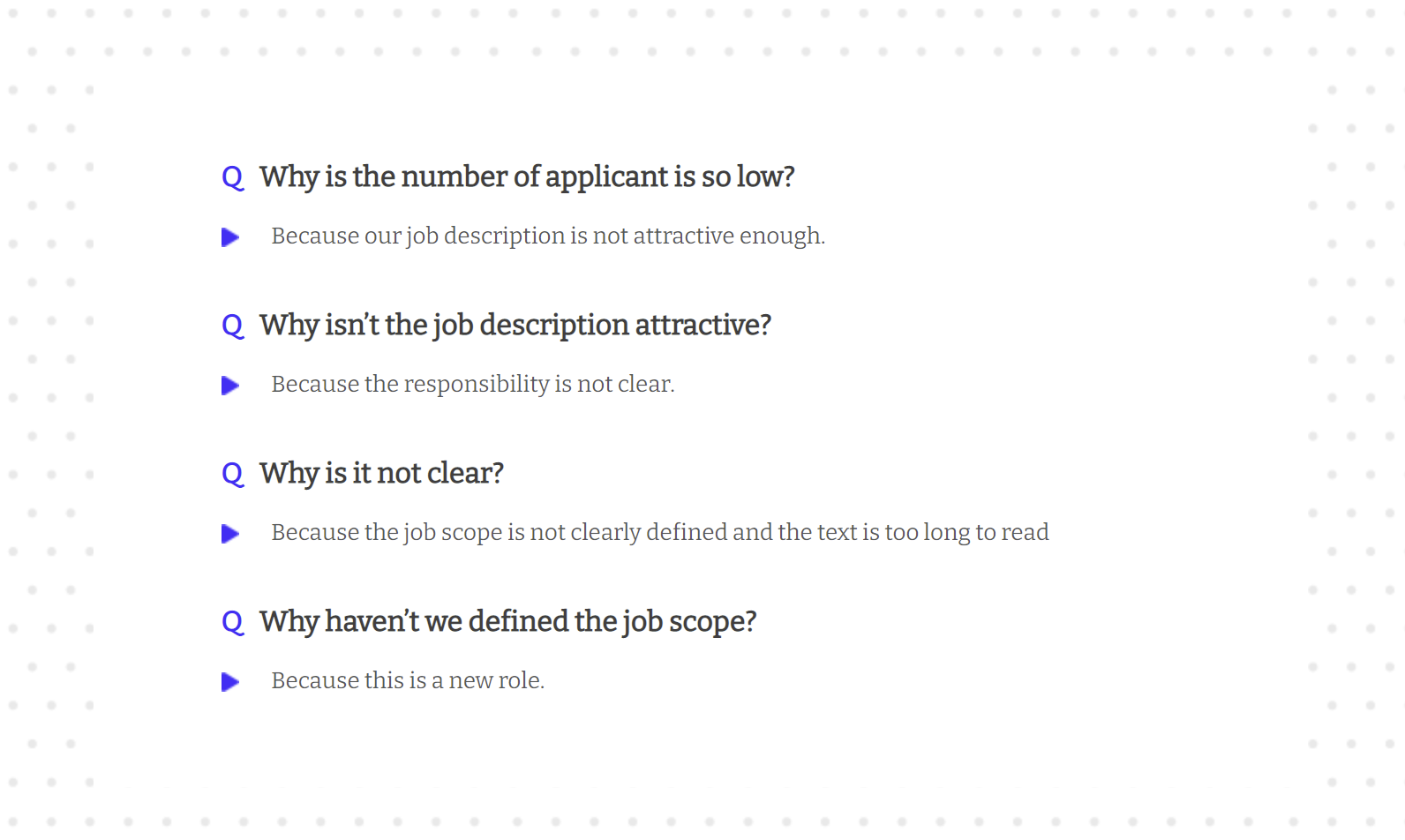 From here, it's clear that you have to really discuss with the team and the hiring manager about the role in order to refine the job description.
Now let's dive deeper into the nine ways to improve your candidate experience.

First things first, your job ad or career site is a bait, one that will hook a potential candidate to your company. This initial touchpoint is what makes all the difference, regardless of where the candidates come from.
The most important part of this stage is the job ad. Don't be stingy when it comes to sharing information such as job responsibility, salary range, and company info, etc. In fact, survey has shown that job seekers expect the following information to be provided: salary or compensation; benefits; basic company information; workplace environment and culture; company mission, vision, values. (source)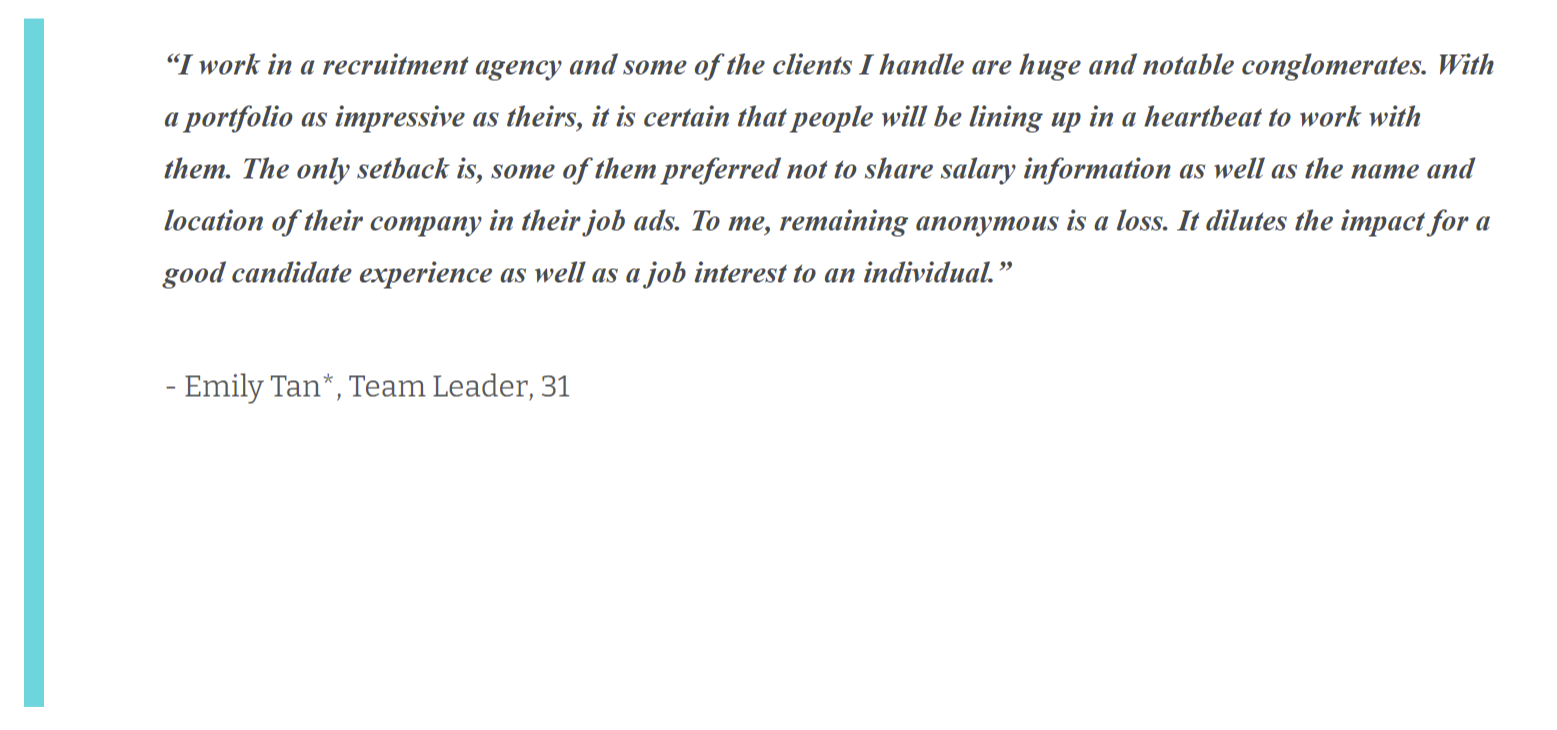 Make the most of the career site to showcase your employer "value proposition", including unique offerings and values that will positively influence the target candidates. Also, do keep in mind that your job ad doesn't have to be loaded with buzzwords to make a strong impression. The most important thing is to clearly define the role and the expectations of a qualified candidate. The last thing you would want is to draw attention of low quality candidates. Remember that this is not a number game.


Are your candidates required to go through multiple pages before they can get to the submit button? Are they also required to create an account to apply for the job? Unless you advertise on external job boards, these are the kryptonite of candidate experience.
The ultimate job application form should fit within a page and must be mobile-friendly. Modern recruiting software has improved the online application process tremendously with features like LinkedIn and resume parsing, as most candidates are already familiar with LinkedIn as a digital resume.
Also, consider providing extra information regarding what the candidates can expect once they submit the application.

Once you get in touch with candidates, it's important that you maintain consistent communication. Also, try to set early expectation for the candidates in terms of company culture so that both sides are on the same page.
While it's common to use automatic email responses during the initial stages of candidate engagement, do take the effort to personalize different email templates to avoid sounding like a robot. Pay attention the tone of voice that you use to portray a desired employer brand.
Managers and team leaders should opt to get involved throughout the interviewing process until the onboarding stage. This will help increase trust and higher engagement in the candidate's standpoint.
Also, don't forget about the unsuccessful candidates. Organisations that take the time and effort to thank and acknowledge those who applied for any position in their organisation will carve a good impression. Through this gesture, candidates will feel appreciated and most likely tell their inner circle about their pleasant and genuine experience and may reapply in the future.
The 2015 NAM Candidate Experience Research Report showed that 95% of unsuccessful candidates would re-apply for another role with the company if the experience was a positive one. So take the effort to establish a healthy relationship with your potential candidates if you want to build a talent pool for future hiring.
Do not ignore inquiries received via email, calls, or on official social media pages. Also, be attentive to questions regarding the hiring process. A buffer time of no longer than 48 hours is ideal.
It's not fair to keep the candidates waiting, especially when they've invested their time and effort. Poor communication directly results in a poor candidate experience and costs you potential talents. Plus, it can impact the way a candidate perceives the company prior to their interview.

A job interview is not a blind-date, so don't skip any information regarding the interviewer as well as the agenda. You must have a structured interview format (including a set of questions, assessment time, etc) to not waste the candidate's and your time.
Having a clear objectives of the interview is also essential to improve the overall experience. The candidates wouldn't be impressed by a n aimless session that doesn't yield any result. Also, respect the candidate's time and allow a certain level of flexibility when it comes to scheduling the appointment. If possible, have all the assessments in one day instead of spreading them to multiple rounds. The candidate probably already finds it inconvenient to apply for leave from their current job to come to the interview in the first place.

Make the process of getting information and hiring, quicker and easier. Spreading the word about job vacancies via mobile technology is the way to go in this day and age.
According to Glassdoor, over 90% of job seekers will opt to use their mobiles during their job search process. This means that social media presence, website content, and career portal updates must be optimised for mobile responsiveness.
The added benefit to have an active social media presence to the hiring strategy is a real asset, especially when candidates can share about job vacancies through share links to their networks. Dissemination of news is fundamentally easier through the digital sphere. From a recruitment strategy standpoint, this is also a very easy and cost-effective recruitment strategy.

Once a candidate makes it through the interview process and is ready to join the company, you need to have them prepared way before the actual commencement day. Provide all necessary forms and documentation required for new employees to fill, prepare a work station, stationeries, and make a laptop ready for their perusal. Initiatives as mentioned will give the candidates a good impression and they'll put more trust to the organisation they've readily joined. Helping candidates adjust well seems like a small thing but it does play a role in maximising an organisation's structure and performance.

New employees make great source for receiving fresh feedback and perception. They are able to share about their experience of onboarding process as well as an organisation's hiring methods.
Create new staff surveys (preferably anonymous), and give feedback forms about their experiences so far. Request for suggestions for improvement and enhancement during this time too. Do it right and sincere results from newly-minted employees (ex candidates) will surface for the betterment of the organisation.

Organise open days and walk-in interviews at the office whenever possible. This is a new way to coerce interested candidates to view the company, get an inkling of the culture, and show interest in joining. Planned well, open days can also be maximised and optimised as a marketing method for employer branding, running surveys, and building awareness too.

Use feedback to its maximum. Set up a system which is readily available for current employees to provide feedback or suggestions to improve the organisation. Also, encourage current employees to give referrals for any vacancies in the company.
This way of improving the candidate experience will arise thanks to personalisation. A current employee who is happy to share about opportunities working in the company will be able to influence potential candidates to be part of the organisation.
Apart from that, through employee referrals, it is positive that the working environment will be healthier since the current employees indirectly 'chose' their fellow teammates (potential candidates).
Next step, map the candidate journey to deliver a positive experience in accordance to your organisational practices.